This conversation will address a broad range of issues related to zines, queer aesthetics, independent publishing and the ways in which zines are distributed, archived and exhibited. Because of their DIY production, displaying and archiving queer zines, as well as queer culture more generally, requires creative and inventive practices. Panelists include Amos Mac, creator of transman zine Original Plumbing; Milo Miller and Chris Wilde, founders of the online Queer Zine Archive Project (QZAP); and Mimi Thi Nguyen, assistant professor of gender and women's studies and Asian American studies at the University of Illinois, Urbana-Champaign, and creator of the compilation zine Race Riot. Also, the Oakland/Los Angeles–based Miracle Bookmobile will distribute used and DIY publications.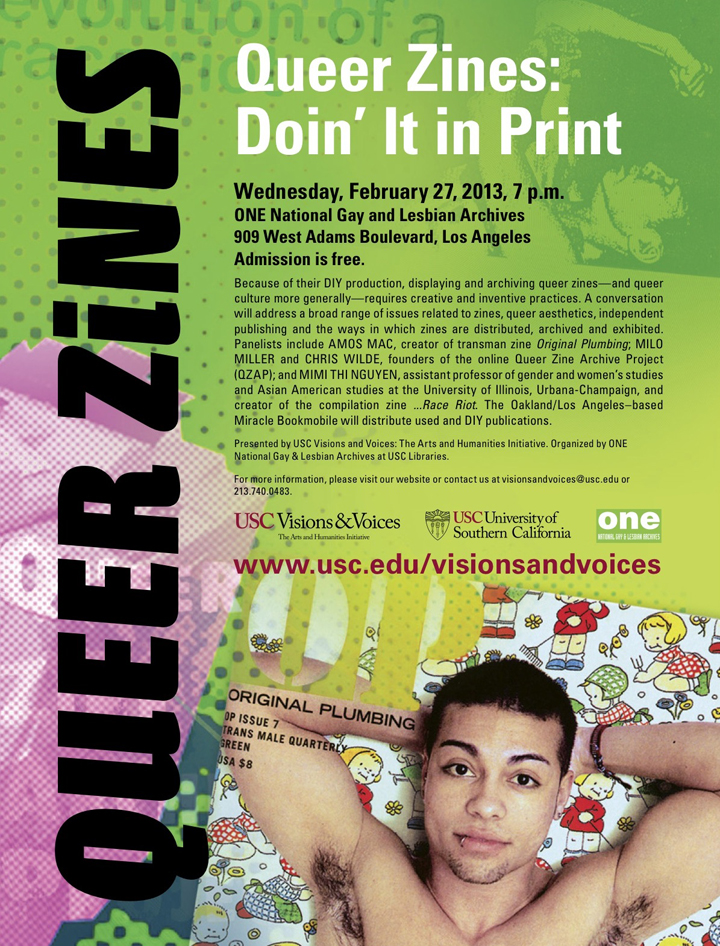 Bios
Amos Mac is the New York–based creator, editor in chief, photographer and publisher of Original Plumbing, a celebrated female-to-male trans quarterly that was named Best Zine of 2010 in the San Francisco Bay Guardian's yearly readers' poll. Mac's voyeuristic, snapshot-style photographs have been exhibited at galleries and events internationally, and his work has been published extensively in magazines, books, newspapers and ad campaigns. (Official website, Tumblr)
Milo Miller and Chris Wilde founded the Queer Zine Archive Project (QZAP) in 2003. QZAP is a digital archive of LGBTQ+ zines and print ephemera. The online collection at www.qzap.org currently contains over 400 documents while the archive as a whole has upwards of 1,200. While the collection is predominantly in English, at least ten languages and fifteen countries are represented. The zines in QZAP represent a vast range of self-published queer experiences, often documenting the lives of folks who fly under the radar of more mainstream gay and lesbian media formats. QZAP itself is collectively run and exists not only to preserve zines but also to educate, entertain and encourage new generations of queer zine makers and self-publishers.
Mimi Thi Nguyen is associate professor of gender and women's studies and Asian American studies at the University of Illinois, Urbana-Champaign. Her book, The Gift of Freedom: War, Debt, and Other Refugee Passages, focuses on the promise of "giving" freedom concurrent and contingent with waging war and its afterlife. With her second project on the promise of beauty, she continues to pursue her scholarship through the frame of transnational feminist cultural studies. A former columnist for Punk Planet and a shitworker for Maximumrocknroll, Nguyen also writes about queer subcultures and punk feminisms. Nguyen has published zines since 1991, including the compilation zine …Race Riot. She is a frequent collaborator with Daniela Capistrano, founder of the POC Zine Project. In Fall 2012, Nguyen was a member of the first POC Zine Project/Race Riot! Tour with Osa Atoe (Shotgun Seamstress), Mariam Bastani (Maximumrocknroll), Cristy Road (Spit and Passion), and Anna Vo (Fix My Head). (Official website)
The Miracle Bookmobile is a Los Angeles/Oakland based bookmobile founded by Kelly Besser and Irina Contreras in 2004, which activates redistribution of used literature. In their own words: "We were inspired by the first bookmobile librarian Mary Titcomb's promise, 'The book goes to the man, not waiting for the man to come to the book!' Titcomb uttered these words in 1905 in rural western Maryland, yet they still resonate with us as we travel up and down the West Coast from Los Angeles to Oakland and back again. Our hope for The Miracle is to create new reading spaces altogether. Books are donated to us; we take them on the road, pull up in neighborhoods and then give them to folks for FREE. We are redistributing books and ideas up and down the Golden Coast. This idea of redistribution extends TitComb's strategy around the Book while providing access to hidden histories which may otherwise be forgotten, rewritten, or destroyed. We actively collect queer materials, science fiction, radical political publications, zines, pulp, smut, local West Coast history, memoirs, books en español and anything you love reading and wanna share. People are able to walk up to the bookmobile in its various incarnations and know that they are entering another kind of physical space. We both have our share of meaningful bookmobile conversations around a myriad of subjects with amazing people who we may never see again. There is hopefulness in these encounters."