ONE Archives & Dirty Looks NYC present a screening at Anthology Film Archives of videos from the archives of EZTV, an alternative video space founded in West Hollywood in 1979
Wednesday, November 20, 2013, 7pm
Anthology Film Archives
32 Second Avenue (at Second Street)
New York, NY 10003
$10 admission; $8 Anthology Members. Purchase tickets here.
Founded by pioneering video-maker John Dorr in 1979, EZTV was an artist-run space in the West Hollywood neighborhood of Los Angeles dedicated to the presentation and production of alternative video projects. Perhaps the country's first micro-cinema exclusively for video, EZTV's early, predominately queer members produced numerous video projects from campy shorts to feature-length docs to experimental video installations. EZTV functioned in many ways as an open platform for a wide-range of video-antics as well as a much-needed space for experimentation and camaraderie. While locally well-recognized throughout the 1980s, EZTV's role as a queer video center has gone largely unacknowledged and undocumented.
This screening presents videos from the archives of EZTV, part of the collections at ONE Archives at the USC Libraries in Los Angeles, the largest LGBTQ repository in the world. In 2011, EZTV was featured in the exhibition Collaboration Labs: Southern California Artists and the Artist Space Movement, curated by Alex Donis at LA's 18th Street Art Center. ONE Archives will present a larger retrospective on the space in Spring 2014 to be accompanied by a screening series of newly re-discovered videos in the collection.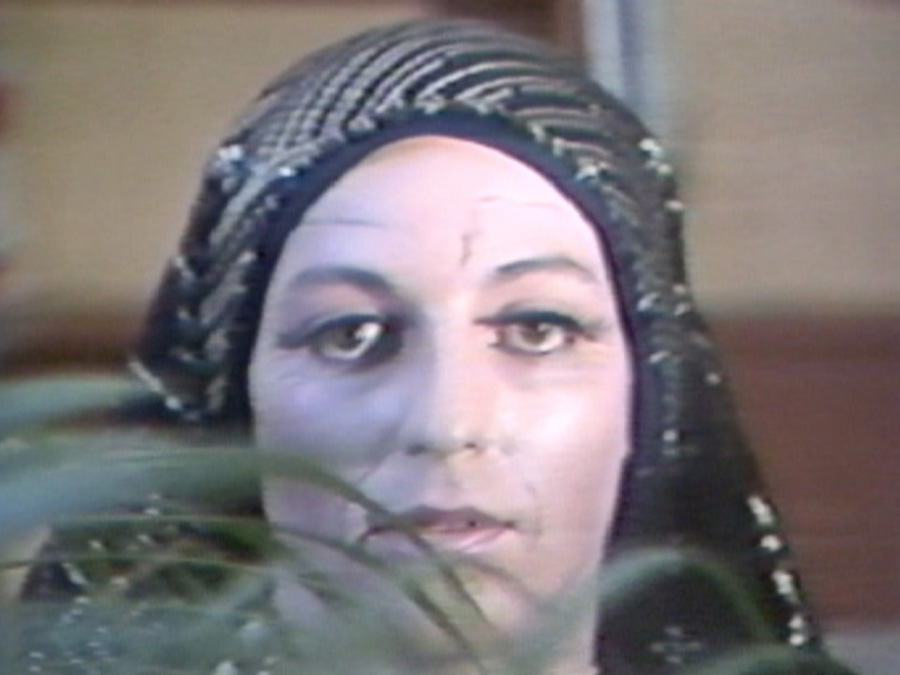 Still from Jamie Walters' Louise Nevelson Takes a Bath, 1983. Produced by Video Free Earth, Washington D.C. EZTV Video Collection. ONE Archives at the USC Libraries
EZTV Shorts, 7pm
Shorts to be screened from the EZTV archives include: Louise Nevelson Takes a Bath (1983, 4 min), a portrait of the modernist artist "portrayed as a droll transvestite" by Jamie Walters, co-founder of EZTV's sister organization Video Free Earth in Washington DC; James Williams's Clear Canvas (1984, 5 min), a mediation on the then-new medium of video by EZTV's co-founder and artistic director; an excerpt from the only known surviving tape of Faculty Wives (1983), a riff on the soap opera chronicling the scandal and tribulations of higher education and departmental politics; an excerpt from John Dorr's Sudzall Does It All (1979), a low-budget, high-camp satire of commercial success and the first feature-length production on video; and I Thought This Was What You Wanted (1989, 8 min), a poetic, striking collaboration between ia Kamandalu (Kim McKillip) & Michael Masucci. And more to be announced.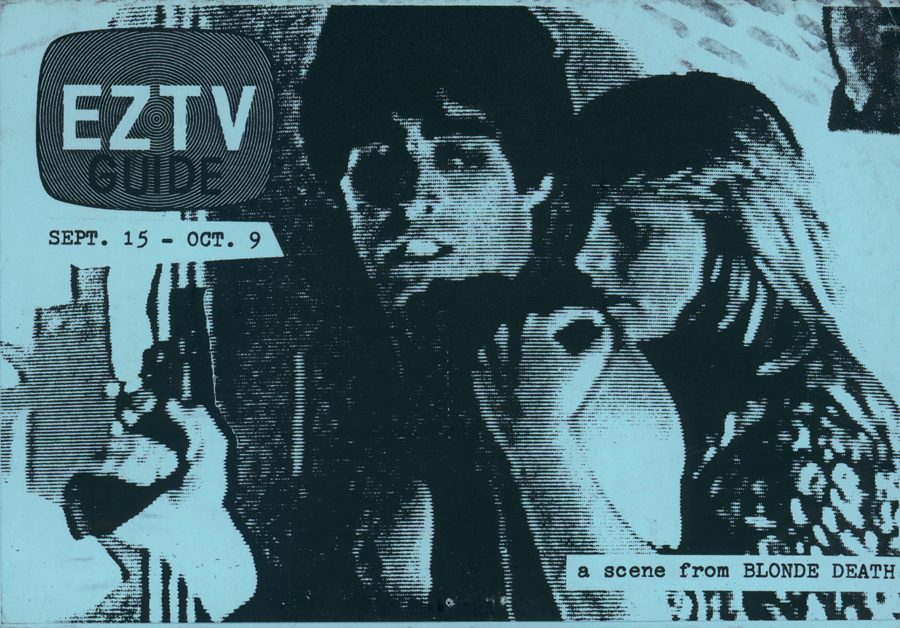 EZTV Guide with a still from James Dillenger's Blonde Death, 1984. EZTV Video Collection. ONE Archives at the USC Libraries
Blonde Death, 9pm
James Dillinger, Blonde Death, 1984, 98 min, 3/4" video-to-digital
EZTV's first big "hit," Blonde Death follows the exploits of Tammy, the "teenage time-bomb," as she is kidnapped and led into a life of senseless violence and murder by her two bisexual companions. With outrageous lines like "I'm gonna give you a scaldin' Clorox enema!", Dillinger's low-brow camp classic pays tribute to cult directors like Roger Corman and John Waters while taking on the Orange County Christians and sensationalized violence. Dillinger would later release a number of transgressive, anarchistic novels under his real name, and though widely unrecognized, Blonde Death in many ways anticipates these satirical works.
Co-organized by David Frantz, Curator at ONE Archives, and Bradford Nordeen, Director of Dirty Looks NYC.
About Dirty Looks NYC
A salon of influences, DIRTY LOOKS NYC is a New York-based roaming series, an open platform for inquiry, discussion, and debate. Designed to trace contemporary queer aesthetics through historical works, Dirty Looks presents quintessential GLBT film and video alongside up-and-coming artists and filmmakers. Dirty Looks exhibits a lineage of queer tactics and visual styles for younger artists, casual viewers, and seasoned avant-garde filmgoers alike.
For more information about Dirty Looks NYC, click here.
About Anthology Film Archives
Anthology Film Archives is an international center for the preservation, study, and exhibition of film and video, with a particular focus on independent, experimental, and avant-garde cinema. Fueled by the conviction that the index of a culture's health and vibrancy lies largely in its margins, in those works of art that are created outside the commercial mainstream, Anthology strives to advance the cause and protect the heritage of a kind of cinema that is in particular danger of being lost, overlooked, or ignored.
For more information about Anthology Film Archive, click here.
Image: (Background) Still from ia Kamandalu (Kim McKillip) & Michael Masucci's I Thought This Was What You Wanted, 1989. EZTV Video Collection. ONE Archives at the USC Libraries