Join us for a discussion with acclaimed portrait artist Don Bachardy and writer Susan Morgan.
Bios
Don Bachardy was born in Los Angeles in 1934. He studied at the Chouinard Art Institute in Los Angeles and the Slade School of Art in London. His first solo exhibition was held in October 1961 at the Redfern Gallery in London. He has since had many solo exhibitions in Los Angeles, San Francisco, Seattle, Houston and New York.
Susan Morgan has written extensively about art, design, and popular culture. She is the author of Joan Jonas: I Want to Live in the Country and Other Romances and editor of Piecing Together Los Angeles: An Esther McCoy Reader, a collection of writing by the preeminent voice of West Coast modernist architecture, published by East of Borneo in 2012.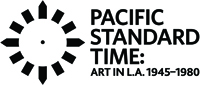 Image: Don Bachardy, Self-portrait, 1972. Ink wash on paper, 29 x 23 inches. Courtesy of the artist