Co-presented by ONE Archives, the Outfest UCLA Legacy Project, and the Museum of Contemporary Art, Los Angeles
Admission is free. Please RSVP here.
Join us to view new short videos by Rhys Ernst, Glen Fogel, Lyle Ashton Harris, Derek Jackson, Tom Kalin, My Barbarian, and Julie Tolentino/Abigail Severance, commissioned by Visual AIDS to honor the 25th anniversary of Day With(out) Art. These provocative works highlight diverse voices that bring together charged moments, memories and personal perspectives amidst the public history of AIDS. The screening will be followed by a conversation on AIDS and media activism with Jih-Fei Cheng, doctoral candidate in the Department of American Studies and Ethnicity at USC, Lucas Hilderbrand, Associate Professor of Film and Media Studies at UCI, and Alex Juhasz, Professor of Media Studies at Pitzer College.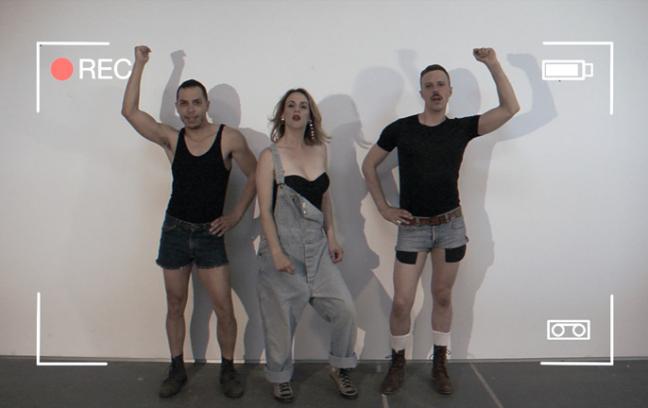 My Barbarian, Counterpublicity, 2014. HD video commissioned for Visual AIDS' Day With(out) Art
About Visual AIDS
Visual AIDS utilizes art to fight AIDS by provoking dialogue, supporting HIV+ artists, and preserving a legacy, because AIDS IS NOT OVER. Visual AIDS is the only contemporary arts organization fully committed to HIV prevention and AIDS awareness through producing and presenting visual art projects, while assisting artists living with HIV/AIDS. We are committed to preserving and honoring the work of artists with HIV/AIDS and the artistic contributions of the AIDS movement.
Find more information on Visual AIDS here.
Day Without Art began on December 1st 1989 as a national day of action and mourning in response to the AIDS crisis. To make the public aware that AIDS can touch everyone, and inspire positive action, some 800 U.S. art and AIDS groups participated in the first Day Without Art, shutting down museums, sending staff to volunteer at AIDS services, or sponsoring special exhibitions of work about AIDS. Find more information about Day With(out) Art here.
Speaker Bios
Jih-Fei Cheng is a doctoral candidate in the Department of American Studies and Ethnicity, and a Visual Studies Graduate Certificate recipient, at the University of Southern California. He has been involved in AIDS social services, queer of color social justice organizations, queer film curation, and has published on the topics of AIDS, kinship, and immigration. His dissertation, "AIDS and its Afterlives: Race, Gender, and the Queer Radical Imagination," examines how late-1980s to early-1990s video works by AIDS crisis activists are re-purposed in popular media and intervene into contemporary narratives about gay progress and mainstream assimilation.
Lucas Hilderbrand is Associate Professor of Film and Media Studies and Director of Visual Studies at the University of California, Irvine. He is the author of Inherent Vice: Bootleg Histories of Videotape and Copyright (2009) and of Paris Is Burning: A Queer Film Classic (2013), as well as essays published in Camera Obscura, GLQ, Film Quarterly, Journal of the History of Sexuality, Millennium Film Journal, Framework, Journal of Popular Music Studies, Flow, Media Fields and Women and Performance. His current research examines the cultural histories of popular queer media forms and of nightlife in the gay liberation era.
Alex Juhasz is Professor of Media Studies at Pitzer College. She has written multiple articles on feminist, fake, and AIDS documentary. Her current work is on online feminist pedagogy, YouTube, and other more radical uses of digital media. Dr. Juhasz produced two feature films as well as nearly fifteen educational documentaries on feminist issues including teenage sexuality, AIDS, and sex education. She is the author of AIDS TV: Identity, Community and Alternative Video, Women of Vision, and F is for Phony: Fake Documentary and Truth's Undoing, which was co-edited with Jesse Lerner, from the University of MN Press. Her innovative "video-book," Learning from YouTube, was published in 2011 by MIT Press.
Artist Bios
Rhys Ernst is a filmmaker and artist who works across narrative and experimental film, photography, animation, and mixed-media, utilizing various forms and modalities to investigate masculinity, transgender identity and the intersection of gender and narrative construction. Ernst received his MFA in Film/ Video at CalArts in 2011 and a BA from Hampshire College in 2004. His MFA thesis film THE THING premiered at Sundance 2012 and his collaborative film with Zackary Drucker, SHE GONE ROGUE, premiered at the 2012 "Made in LA" Los Angeles Biennial at the Hammer Museum. Past exhibitions and screenings include the 2014 Whitney Biennial, Oberhausen, Ann Arbor Film Festival, Chicago International Film Festival, the Chicago Museum of Contemporary Art, Brooklyn Academy of Music, and in Los Angeles at UCLA Hammer Museum, REDCAT, and LACE. He lives in Los Angeles.
Glen Fogel is an artist living and working in New York. Solo exhibitions include Callicoon Fine Arts, New York (2013), Santa Barbara Contemporary Arts Forum (2013), Aspect Ratio, Chicago (2013), Portland Institute of Contemporary Art (2012), Contemporary Arts Museum, Houston (2011), Participant Inc., New York (2011), The Kitchen, New York (2008), and Momenta Art, New York (2006). Group exhibitions include Coming After at The Power Plant, Toronto (2011), A Word Like Tomorrow Wear Things Out at Sikkema Jenkins, New York (2010), Log Cabin at Artists Space, New York (2006), and The Whitney Biennial, New York (2002). Fogel's film and video work has screened widely at venues including The Toronto International Film Festival, The London International Film Festival, The Museum of Modern Art, New York, Images Festival, Toronto, Chicago Filmmakers, and Anthology Film Archives, New York.
Lyle Ashton Harris has cultivated a diverse artistic practice ranging from photographic media, collage, installation and performance. His work explores intersections between the personal and the political, examining the impact of ethnicity, gender and desire on the contemporary social and cultural dynamic. Known for his self-portraits and use of pop culture icons (such as Billie Holiday and Michael Jackson), Harris teases the viewers' perceptions and expectations, resignifying cultural cursors and recalibrating the familiar with the extraordinary. His work has been exhibited internationally, including at the Whitney Museum of American Art, the Solomon R. Guggenheim Museum and the 52nd Venice Biennale. His work has been acquired by major international museums, most recently by the Museum of Modern Art in New York. His commissioned work has been featured in a wide range of publications, including The New York Times Magazine and the New Yorker. In 2014 Harris joined the board of trustees at the American Academy in Rome and was named the 10th recipient of the David C. Driskell Prize by the High Museum of Art in Atlanta. Born in New York City, Harris spent his formative years in Dar Es Salaam, Tanzania. He received his Bachelor of Arts with Honors from Wesleyan University in 1988 and a Masters in Fine Arts from the California Institute of the Arts in 1990. He currently lives and works in New York City and is an Associate Professor at New York University.
Derek Jackson is a visual artist and performer living in Portland, Maine, and New York City. He is the founder and creative director of Hung Magazine, published by Sur Rodney (Sur) and a member of the gogocuntrypunkmashupelectrohouse ensemble Daisy Spurs. His work was most recently featured in a video program at CRG Gallery curated by Angela Dufresne and is included in the exhibition "Framing AIDS" curated by Hector Canonge at the Queens Museum of Art. Jackson is a recipient of numerous awards including: the Brooklyn Arts Council, The Djerassi Artist Residency Program, and Momenta Arts. He is a graduate of the Experimental Theater Wing at New York University's Tisch School of the Arts as well as the City University of New York at Brooklyn College.
Tom Kalin is known as a prominent figure in the New Queer Cinema. His critically acclaimed work traverses diverse forms, including experimental films, video installations and narrative feature films. In these works and as a member of the activist collective Gran Fury, Kalin has done significant work to change public opinion of AIDS. Named one of the top 100 American Independent films by the BFI, his first feature, Swoon, was awarded Berlin's Caligari Prize, Stockholm's Fipresci Prize, Sundance's Best Cinematography and the Gotham Awards"Open Palm'. His feature Savage Grace premiered in Cannes, played opening night in Zurich and screened at festivals including Sundance, Karlovy Vary, London and Tribeca. It was nominated for a Spirit Award and named one of the top ten films of 2008 by Artforum and Paper. As a producer his features include I Shot Andy Warhol and Go Fish. He was a writer of Cindy Sherman's Office Killer. He has also created shorts and installations including They are lost to vision altogether, Geoffrey Beene 30, Plain Pleasures, Third Known Nest, Every Wandering Cloud, Behold Goliath, Incontinent and My Silent One. Kalin was a 2011 Guggenheim Fellow. He has twice been included in the Whitney Biennial.
My Barbarian is a Los Angeles based collaborative group consisting of Malik Gaines, Jade Gordon and Alexandro Segade. The trio makes site-responsive performances and video installations that use theatrical play to draw allegorical narratives out of historical dilemmas, mythical conflicts, and current political crises. My Barbarian had solo exhibitions with Steve Turner Contemporary in Los Angeles (2008, 2009) and at Participant, Inc. in New York (2009). In 2008, the group made a collaborative exhibition with the sculptor Lara Schnitger at Museum Het Domain, Sittard, NL, which, in 2009, traveled to the Luckman Gallery in Los Angeles. Since 2004, My Barbarian has shown work in group exhibitions and/or performance programs at venues including REDCAT; LACMA; Hammer Museum; LAXART; Schindler House; LACE; Steve Turner Contemporary, Los Angeles; New Museum; Whitney Museum; Studio Museum in Harlem; Participant, Inc.; P.S.1; Joe's Pub; Anton Kern Gallery, New York; Yerba Buena Center, San Francisco; MOCA, Miami; Hyde Park Art Center, Chicago; Aspen Art Museum; Contemporary Arts Forum, Santa Barbara; Vox Populi, Philadelphia; Estacion Tijuana & Lui Velazquez, Tijuana Mexico; The Power Plant, Toronto; De Appel, Amsterdam; Peres Projects, Berlin; Torpedo, Oslo; El Matadero, Madrid; Galleria Civica, Trento, Italy; Center for Contemporary Art, Tel Aviv; Townhouse Gallery, Cairo. My Barbarian was included in the 2005 and 2007 Performa Biennials, the 2006 and 2008 California Biennials, the 2007 Montreal Biennial, and the 2009 Baltic Triennial. The group has made two full-length albums of music from its performances: Cloven Soft-Shoe (2004) and California Sweet & the 7 Pagan Rights (2008). Gaines (b. 1973, Visalia, California) received a B.A. in History from UCLA (1996) and an MFA in Writing from Cal Arts' School of Critical Studies (1999) and is a faculty member in the School of Theater at Cal Arts. Gordon (b. 1975, Santa Rosa, California) received a BA in Theater at USC (2008) and teaches at the Stella Adler School in Los Angeles. Segade (b. 1973, San Diego, California) received a BA in English from UCLA (1996), studied in the School of Film and Television at USC (1997–1998), received an MFA in Interdisciplinary Studio Art from UCLA (2009), and also currently works as a solo artist.
Julie Tolentino's career spans over two decades of dance, installation, and site-specific durational performance. Her diverse roles have included host, producer, mentor, and collaborator with artists such as Meg Stuart, Ron Athey, Madonna, Catherine Opie, David Rousseve, Juliana Snapper, Diamanda Galàs, Stosh Fila, Robert Crouch, Elana Mann, Mark So, Gran Fury, and Rodarte. Tolentino is deeply influenced by her extensive experience as a caregiver, an Eastern and aquatic bodyworker, a highly disciplined contemporary dancer, and as proprietress of Clit Club in New York. Her manifold, exploratory duet/solo practice includes installation, dance-for-camera, and durational performance engaging improvisation one-to-one score-making and fluids, including blood, tears, and honey. As an extension of her practice after twenty-five years in New York City, she designed and built a solar-powered live–work residency in the Mohave Desert called FERAL House and Studio, where she explores the remote forms of physical inquiry through landscape and texts. She has received numerous grants and fellowships. She is currently the editor of Provocations in the Drama Review-TDR (MIT Press). Her works have been commissioned by The Kitchen, Participant Inc., Invisible Exports, Performa '05, and in the UK by Spill Festival, Tramway, DanceExchange, and queerupnorth. Recent tours include England, Europe, Myanmar, the Philippines (at Manila Contemporary and Green Papaya Gallery), and Theaterworks in Singapore as well as Broad Art Space at University California Los Angeles (UCLA), Los Angeles Contemporary Exhibitions (LACE), Commonwealth & Council, Honor Fraser, PSI19 at Stanford, Perform Chinatown, Install Weho, Cypress College, USC Ecotone, the New Museum, Radical Archives/NYU and YBCA In-Community project.