December 12, 2016
Reposted from the USC Libraries News.
Thanks to two generous grants from the Getty Foundation, ONE National Gay & Lesbian Archives at the USC Libraries will present Axis Mundo: Queer Networks in Chicano L.A. at the ONE Gallery, West Hollywood, and the Museum of Contemporary Art Los Angeles' Pacific Design Center location from September 9 to December 31, 2017. The exhibition is co-curated by C. Ondine Chavoya, professor of art and Latina/o studies at Williams College, and David Evans Frantz, curator at ONE Archives.
Axis Mundo is part of Pacific Standard Time: LA/LA, a far-reaching and ambitious exploration of Latin American and Latino art in dialogue with Los Angeles. Supported by grants from the Getty Foundation, Pacific Standard Time: LA/LA takes place from September 2017 through January 2018 at more than 70 cultural institutions across Southern California, from Los Angeles to Palm Springs, and from San Diego to Santa Barbara. Pacific Standard Time is an initiative of the Getty. The presenting sponsor is Bank of America.
Axis Mundo will feature more than 40 LGBTQ and Chicano artists who created experimental artworks in a variety of media between the 1960s and early 1990s, a period bookended by the Chicano Moratorium, gay liberation, and feminist movements on one end, and the ravages of the AIDS crisis on the other.
The exhibition is the result of extensive research by Chavoya and Frantz. While developing the exhibition, they visited research archives at institutions throughout North America and met with artists—as well their family members, friends, and collaborators—whose work had not been exhibited publicly since the 1970s or 1980s.
Their curatorial research has helped to uncover the work of many less-visible and forgotten LGBTQ and Chicano artists from the period, including many artists who passed away due to the AIDS crisis. A focal point for the exhibition will be artist Edmundo "Mundo" Meza (1955-1985), who collaborated with many of the artists featured in the exhibition—working in media ranging from abstract paintings and sketches to performance and avant-garde window displays he created with Simon Doonan for stores in West Hollywood.
Axis Mundo features work by Mundo and this largely hidden network of LGBTQ and Chicano artists, including L.A.-based artists such as Laura Aguilar, Jerri Allyn, Judith F. Baca, Alice Bag, Gronk, Teddy Sandoval, Joey Terrill, and Johanna Went. It broadens the canon of 1960s-1980s LGBTQ and Chicano artists and offers a new perspective on artistic traditions and cultural productions that are closely tied to Los Angeles.
These range from artistic interventions in both LGBTQ and Chicano activist movements based in L.A. to experimental performances from L.A.'s punk scene, and conceptual mail art and publications that enabled new modes of community and collaboration through DIY distribution.
In conjunction with the Axis Mundo exhibition, ONE will present public programs at venues throughout Los Angeles and publish an exhibition catalogue featuring essays by Chavoya, Frantz, Brown University professor Leticia Alvarado, UC Berkeley professor Julia Bryan-Wilson, Pratt Institute professor Macarena Gómez-Barris, University of Michigan professor Colin Gunckel, University of Colorado Boulder professor Joshua Javier Guzmán, UC Riverside professor Richard T. Rodríguez, and UC Riverside President's Postdoctoral Fellow Iván Ramos.
Pacific Standard Time is an initiative of the Getty with arts institutions across Southern California. The presenting sponsor is Bank of America.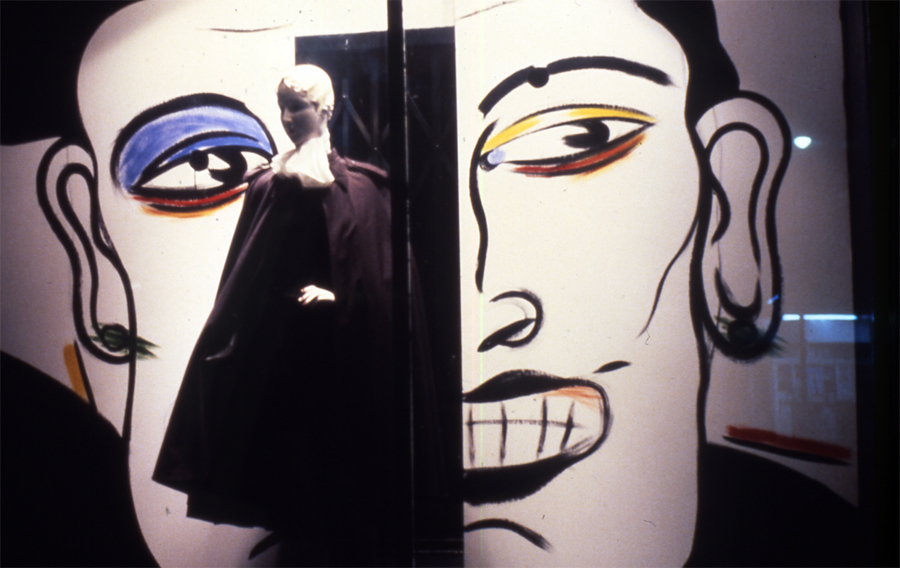 Mundo Meza, Documentation of a window display at Maxfield Bleu, Los Angeles, c. 1980s. Courtesy of Patricia Meza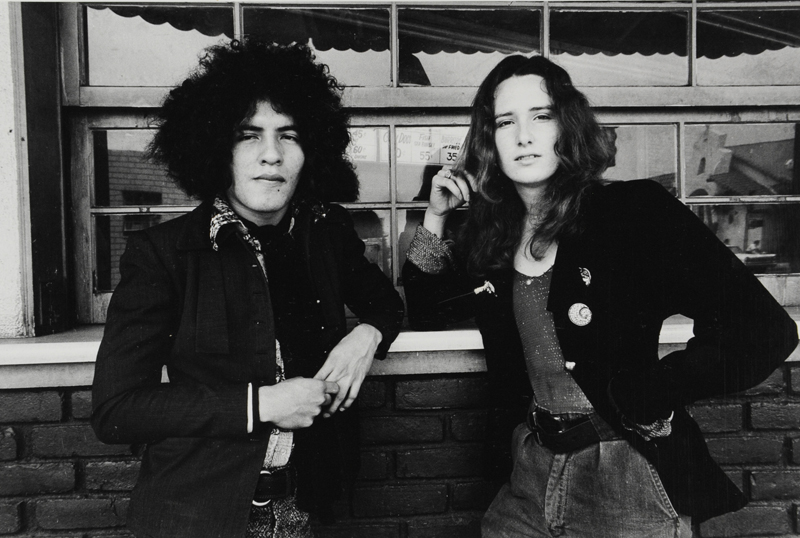 Anthony Friedkin, Mundo and Jim, East Los Angeles, 1972. From "The Gay Essay." Gelatin silver print, 14 x 11 inches. Morris Kight Collection. ONE National Gay & Lesbian Archives at the USC Libraries. Courtesy of the artist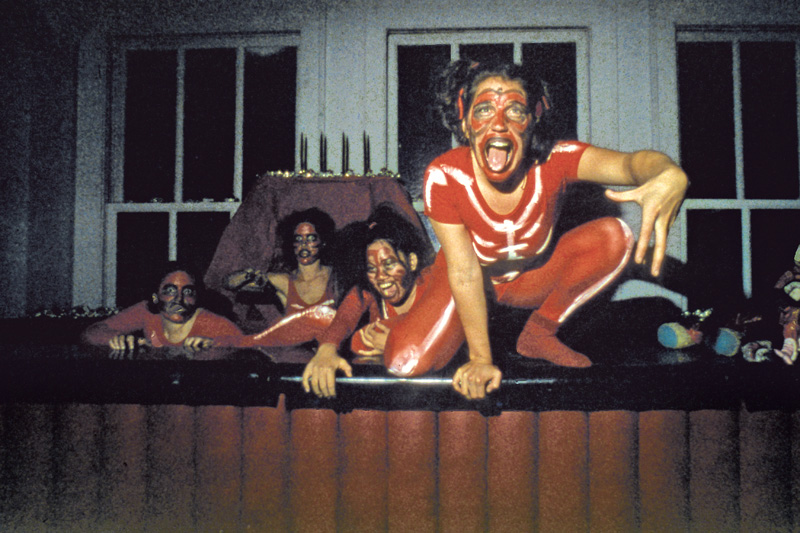 Jerri Allyn, Documentation of Laughing Souls/Espíritus Sonrientes presented at Los Angeles Contemporary Exhibitions (LACE), October 31–November 2, 1979. Courtesy of the artist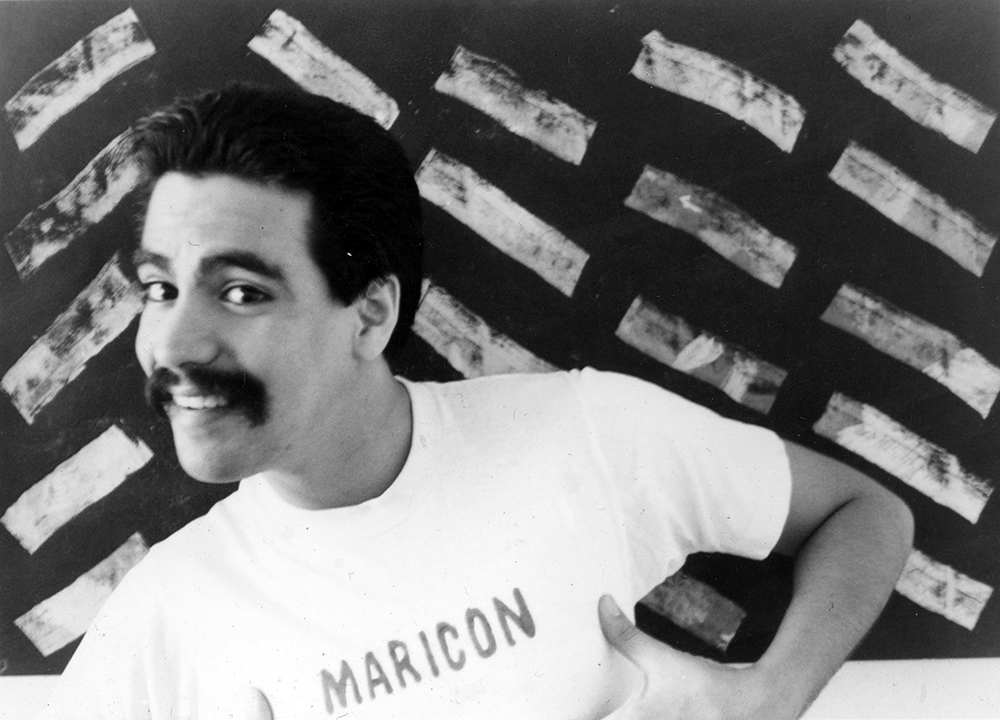 Teddy Sandoval, Joey Terrill wearing a maricón T-shirt, c. 1976. Black and white photograph. Collection of Joey Terrill. Courtesy of Paul Polubinskas
Laura Aguilar, Judy, 1990. From the "Latina Lesbians" series, 1985-91. Gelatin Silver print, 14 x 11 inches. Courtesy of the artist
Image: (top) Teddy Sandoval, Joey Terrill wearing a maricón T-shirt, c. 1976. Black and white photograph. Collection of Joey Terrill. Courtesy of Paul Polubinskas